A coupe model called the
GTS
was also introduced in 1996. Dubbed the "double bubble", the roof featured slightly raised sections above each seat to accommodate usage of helmets, a throwback to its intended purpose. Indeed, the Viper's performance has made the vehicle popular for both amateur and professional racers. Vipers can be seen participating often in drag racing, road racing and drifting. The
GTS
, like its predecessor, was chosen as the pace car for the 1996 Indianapolis 500.
Second generation models were upgraded bringing increased engine power, an improved suspension, and reduced braking distances; the 1996 to 2002 Viper GTS had a 450 bhp (336 kW) engine, which could complete the quarter mile 0.7 seconds faster and increased top speed by 35 km/h (22 mph) or so.
Along with the updated performance came the inclusion of some of the "luxuries" the car did without before. Dual front airbags were added to the vehicle's safety equipment list in 1997 as mandated by the government. The car was also exported to Europe, where it was re-badged as a Chrysler, and sold under this marquee from 1997 to 2003.
In the first six years of production almost 10,000 Vipers were sold. Minor evolutionary changes including new 18" diameter wheels were introduced in the 1999 model. Subsequent versions featured light-weight hypereutectic pistons and an improved exhaust system. 1999 saw the introduction of the Cognac Connolly interior package. Continuing the refinements, an ABS system was introduced in 2001. In 2002, the end of second generation production was celebrated with the release of 360 commemorative "Final Edition" models. These models were painted red with white stripes, paying tribute to the famous race-winning Oreca cars.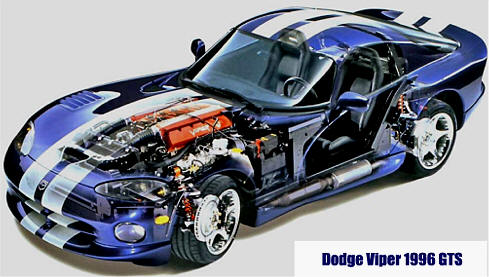 Performance (GTS):
0-60: 4.0 sec.
0-100: 8.6 sec.
quarter mile: 12.2 sec @ 118 mph (190 km/h)
top speed: +190 mph (306 km/h) (again proven by Road and Track magazine)
Slalom: 71.3 mph (115 km/h)
skidpad average g: .98