ACC-VSSE1
Dodge Viper (2003-2008) SKIP SHIFT ELIMINATOR

for manual transmission


Finally the solution! Just plug it in.

Ever turn a corner and try to shift into 2nd gear and get forced into 4th gear. That is the factory skip shift. All Vipers have it and it is annoying to all Viper owners, but now there is a low cost simple solution that will have no impact on your cars performance - except to allow you to shift into 2nd or 3rd gear whenever you want.

The factory C.A.G.S. (Computer-Aided Gear Selector) only allows up-shifts from 1st to 4th gear, preventing 2nd and 3rd gear engagement at light throttle speeds between 15 and 20 mph. The Skip Shift Kit eliminates the annoying mandatory 1st to 4th gear shift. Allows full 1st through 6th gear changes at any speed for maximum performance and acceleration. Easily installed in just minutes and OBDII compatible.

Performance Choice 6-Speed Skip Shift Bypass will protect the open ends of the harness and prevent throwing trouble codes. These custom-designed harness plugs not only avoid dirt/corrosion problems associated with an open-ended harness, but also allow you to easily reconnect it, if necessary, with no modifications.

Does not fit the Viper 2009-10. Currently there is not one available for these years of Viper.




Pictures of device installed

Complete instructions for
installing on a Viper included

$ 36.95

15% Restock Fee on Returns
Return Policy
1-2 week delivery
If you are having trouble ordering online: Please call us at 352 688 8160

$ 8.95



We welcome our many Overseas Customers!
More Shipping Info Click Here


IPS-153PM

Same as MOPAR:
P4510179

(2)


Dodge Viper SRT-10 (2003-2010) High-Duration Transmission Mount

Same as the MOPAR Performance mount part number P4510179. Urethane mount reduces transmission movement under high-load conditions includes bolts. Improved life compared to stock rubber mount. Same design and material as used on the Viper Competition Coupe.
"WOW! - What a difference this mount makes on how your Viper rides!"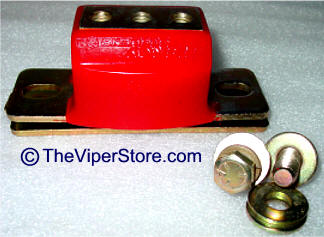 $ 89.95

15% Restock Fee on Returns
Return Policy

1-4 week delivery
If you are having trouble ordering online: Please call us at 352 688 8160

$ 24.95
2 lbs



UPS Ground
We welcome our many Overseas Customers!
More Shipping Info Click Here