EB-1000-616
Dodge Viper (1996-2002) Engine OBDII and CANBUS Code Reader
Reads and Clears Codes!

Plugs into the diagnostic link under the dashboard on all 1996 -2010 Dodge Viper SRT-10 Coupe or Convertible. Will also work on any car 1996-2013.

Even if you don't repair your vehicle yourself, knowing the Diagnostic Trouble Code number before taking the vehicle in for repair is good knowledge to have. Once the vehicle is repaired, the Diagnostic Trouble Code(s) can be erased and the Check Engine light turned off using this scan tool.
In areas that require a smog test, an illuminated Check Engine light fails the emission test, even if the repaired vehicle might otherwise pass inspection. This OBDII/CANBUS Scan Tool turns off the Check Engine light.
Another highly useful application for the scan tool is purchasing used vehicles. Used vehicles can have all sorts of expensive mechanical or electrical problems. Since the scanner is a portable device, the buyer can connect the scan tool to the vehicle and in a few seconds determine if the vehicle has detected a problem. Remember, not all Diagnostic Trouble Codes illuminate the Check Engine light and a scan tool is the only way to obtain the information.

Digital screen displays trouble codes and erases them in minutes. This reader will display live data including temperatures, timing, fuel pressure, engine load, Oxygen Sensors Readings, etc.! Also displays complete code description - no need to look codes up in a code book! Small enough to fit in your pocket. This handy little tool can save a lot of headaches and quickly diagnoses what codes have been set in the PCM (Cars computer).
Saves time and money by allowing you to do it yourself.

Reads and erases Diagnostic Trouble Codes (DTCs) of Engine, ABS, Airbags and Automatic Transmission
Turns off check engine light
Highly reliable and accurate
Easy-to-read crystal-clear backlit 2-line LCD display
Easy to use with one plug-in
Stand-alone unit with no need for an additional laptop computer to operate
Small in size and conveniently fits in your palm
Performs continuous DTC scan
Specially designed for DIYers
Safely communicates with the on-board computer
No batteries needed-power provided via OBD II cable
Users manual contains VW/AUDI Diagnostic Trouble Code Definitions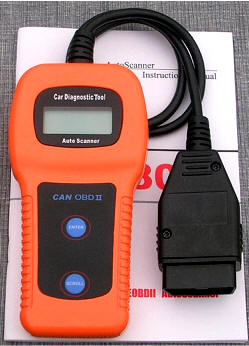 See Optional Code book below ▼
$ 69.95 SALE
$ 89.95 Reg price

15% Restock Fee on Returns
Return Policy
1-2 week delivery
If you are having trouble ordering online: Please call us at 352 688 8160

$ 10.95



We welcome our many Overseas Customers!
More Shipping Info Click Here


IH-OBII-V1-2
Dodge Viper RT-10 & GTS OBII Codes Guide

Over 900 OBII diagnostic trouble codes and what they mean.
8.5" X 11.0" format with color cover. 32 pages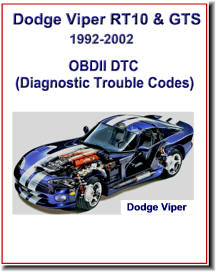 $ 15.95

15% Restock Fee on Returns
Return Policy
1-2 week Delivery
If you are having trouble ordering online: Please call us at 352 688 8160

$ 5.95



We welcome our many Overseas Customers!
More Shipping Info Click Here


EB-1000-688BG
Dodge Viper RT10 & GTS
(1996-2002) "DELUXE" Engine OBDII - CANBUS Code Reader
Reads and Clears Codes!
Displays code and text explanation
This reader will display live data including temperatures, timing, fuel pressure, engine load, Oxygen Sensors Readings, etc.! Also displays complete code description - no need to look codes up in a code book!
Even if you don't repair your vehicle yourself, knowing the Diagnostic Trouble Code number before taking the vehicle in for repair is good knowledge to have. Once the vehicle is repaired, the Diagnostic Trouble Code(s) can be erased and the Check Engine light turned off using this scan tool.

In areas that require a smog test, an illuminated Check Engine light fails the emission test, even if the repaired vehicle might otherwise pass inspection. This OBD II Scan Tool turns off the Check Engine light.
Another highly useful application for the scan tool is purchasing used vehicles. Used vehicles can have all sorts of expensive mechanical or electrical problems. Since our scanner is a portable device, the buyer can connect the scan tool to the vehicle and in a few seconds determine if the vehicle has detected a problem. Remember, not all Diagnostic Trouble Codes illuminate the Check Engine light and a scan tool is the only way to obtain the information.
Requires a 9 volt battery.
* Works with all 1996 and newer cars & trucks that are OBD II compliant
* Live Data Stream
* DTC (Diagnostic Trouble Codes) meanings are displayed in text mode
* Reads Freeze Frame Data
* Large Backlit LCD Display
* Large Database of Diagnostic Trouble Code(s)
* Clears / Turns off Check Engine Light
* Reads VIN number: great for verification of used cars!
* Tests I/M Status: Misfire Monitor, Fuel System, O2 System, EGR System, MIL Status
* Reads and clears generic and manufacture specific Diagnostic Trouble Codes (DTC)
* Supports multiple trouble code requests: generic codes, pending codes and manufacturer's specific codes
* Highly reliable and accurate
* Easy to read backlit LCD display
* Easy to use with one plug-in
* Safely communicates with the on-board computer
* Stand-alone unit with no need for an additional laptop computer to operate
* FULLY COMPATIBLE WITH CAN PROTOCOL

PRO Series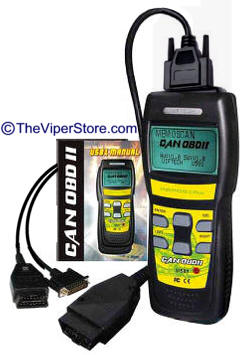 See Optional Code book above ▲
$ 109.95 SALE
$ 139.95 Reg price

15% Restock Fee on Returns
Return Policy
1-2 week delivery
If you are having trouble ordering online: Please call us at 352 688 8160

$ 11.95



We welcome our many Overseas Customers!
More Shipping Info Click Here


JU-8ECO9000
Dodge Viper RT10 & GTS
(1996-2002) Gas Meter
In this day and age, gas prices seem to climb every day, making fuel economy more and more important. Help save money on your fuel costs with the Dodge Viper Gas Meter. This Gas Meter reads current fuel economy, average fuel economy, RPMs, and vehicle speed. Red, amber, and green lights clearly indicate how well you are doing at keeping your Challenger in the most fuel efficient range.
2-1/2 inch diameter gauge easily connects to the OBD II port
Installs in minutes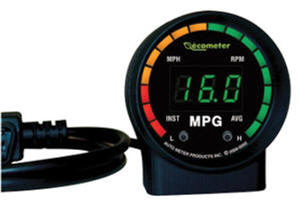 $ 89.95
1-2 week
Delivery
If you are having trouble ordering online: Please call us at 352 688 8160

$ 14.95



We welcome our many Overseas Customers!
More Shipping Info Click Here