DODGE VIPER IV
Part# ACC-973021
INSTALLATION INSTRUCTIONS
Parts Included:
2 x Adhesive Promoter Packs, 1 x Driver Stainless Fuel Rail Cover, 1 x Passenger Stainless Fuel Rail Cover, 1 x Tape Test Kit
Introduction: These newly designed stainless steel covers will add a very cool performance styling to the already awesome viper engine. Install in just a few minutes.
Liner Information: Your new accessories will come to you with a protective surface liner. Leave this liner in place until the installation is complete to prevent finger prints and or possible scratches during installation.

READ BEFORE MOUNTING---

1. It is critical for you to thoroughly clean the surface where you will be mounting it. To do this wash the area with soap and water.
Next use rubbing alcohol or Isopropanol and thoroughly scrub the area. If there is any wax or oil of any kind your trim ring will not stick well.
2. Once you have completed the surface preparation use your Test Stick Kit (included). Peel back the red liner off the small piece of tape and try sticking a corner of it on to the surface you will be mounting your Fuel Rail Covers. Try it in several locations. Stick and pull off. If it sticks tightly your surface is ready for you to mount your Fuel Rail Covers.
3. Take out your Fuel Rail Covers - without removing the back liner - set one of them up against the area it is to be mounted. If necessary - gently bend the the Fuel Rail Cover piece to match the contour of the engine area. Become familiar with the way it will fit once mounted.
4. Take out the Promoter and rip the packet open. Remove the moistened towlette and wipe down the areas where you will be mounting your pieces - tape to engine.

5. Once you have achieved a nice contour simply remove the red liner from the back of the new cover and then carefully set it over the factory coil pack cover gently where it is to be mounted. Make any last minute adjustments. Now press firmly along its length to set the bond.
IMPORTANT: Make sure that you approach this placement very slowly and careful to make sure the raised engine letters are correctly protruding through the new cover.

Once set in place remove the protective liner to finish the installation.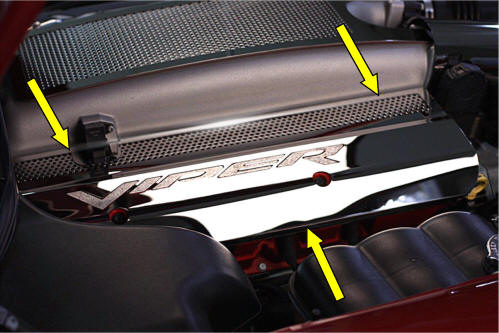 Copyright 2005 - 2022
13 copyright


TheViperStore.com is a HotCarAccessories site