DODGE VIPER HEADLIGHT GUARDS
PART # DVHG106, DV3HG108T, DV3HG106C
INSTALLATION INSTRUCTIONS

Included: Headlight lens film vinyl tints, soft squeegee

For installation you will need: Household Rubbing Alcohol, a soapy water mixture of one full spray bottle of water with a couple of drops of baby shampoo or mild dish detergent. You may also need a hair dryer.
WARNING: It is very important to follow every step without skipping anything. To ensure that you mount your lens guards professionally.
1. Prepare both headlight lenses by first washing with soap and water to remove dirt and grime. Dry completely and scrub the lens with household Rubbing Alcohol.
2. Test your cleaning. Take a piece of masking tape and see if it readily adheres to both of your headlight lenses. If it does not continue to clean until it does.

3
. As a test and without sticking it on - Place your unpeeled headlight guard over your headlight and make note of its fit. You now have an idea of how it sits on the plastic Headlight lens.
NOTE: If your headlight lens is bulbous with tight compound curves you will need to use an electric hairdryer to heat the vinyl lens until it is soft and malleable. Once it is it will be easier to form around complex curves.
Now spray your mixture of soapy water directly on your cars headlight lens and on your new headlight guard soaking it down as you peel the release liner.
Once both the headlight lens and the lens vinyl tint are completely saturated place the guard on the lens and position it into place.
4. You have been provided with a soft felt squeegee. Starting at the center of the light lens use the squeegee to work the fluid out in all directions until the lens guard has become completely adhered. If you need to stretch or mold your tint around complex curves use a household hair dryer will help soften the vinyl for easier molding. When you are done their should be no air bubbles under the tint.
5. Repeat the entire process for the opposite side.
6. Repeat the entire process for the Fog lights as well.
NOTE: Once these are removed they can not be reinstalled as the adhesive is compromised.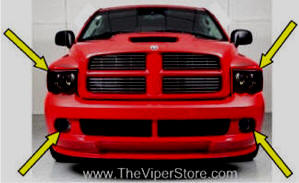 TheViperStore.com a HotCarAccessories.com website
2005-2016 copyright