DODGE RAM SRT10 Lower Grille and/or Hood Scoop Inserts
PART # ACC-132001, ACC-13202, and ACC-132003
INSTALLATION INSTRUCTIONS
Parts Included for FULL Kit:
1 x Hood Scoop Grille insert
2 x lower grille inserts
2 x stainless filler plates w/ protective liner.
2 x stainless flat head screws

DODGE RAM SRT10 Bumper Grilles
Your new grille insert is designed to slip between the lower bumper grille and the outer bumper cover. Simply push the factory grille in until it unsnaps from the surrounding tabs.
Gently insert the new grille section into and against the center post. You will notice a small round hole at the lower right and left corner depending on which side you are working with. Pilot this hole with a 1/8th drill bit. You have been provided with two stainless flat head screws. Use one of them and tack the grille section you're working with so that it remains in position. Repeat this step for the opposite side.
You have been provided with two stainless filler plates. This plate will be glued in position using clear household silicone. Place a 2" round pile of silicone directly to the back of the filler plate and carefully place into position to the side of the grille insert. Be sure to position it nice and straight. Using 2" masking tape, tape the filler so that it can remain in position overnight to let the silicone set. Repeat this step for the opposite side.
Remove protective liner from both filler plates.
DODGE RAM SRT10 HOOD VENT GRILLE INSERT
Remove the six grip nuts holding the black plastic factory hood vent grill in place and remove grille. NOTE: This grille will not be reused.
Using four of the six grip nuts reinstall the new hood vent grille insert. NOTE: The two center nuts will no longer be needed.
If any questions occur during installation please call the manufacturer ACC at 727 861-1500 M-F.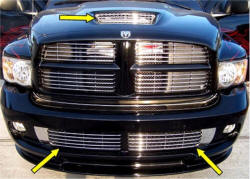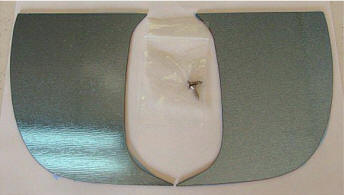 Filler Plates and two screws included




Copyright 2005 - 2023
14 copyright


TheViperStore.com is a HotCarAccessories site